Don't make this rookie mistake when you make French fries at home
Ever wondered how to make homemade French fries? 
Well, for many it is quite easy. Pick the best potatoes for the fries, cut it and fry it! Viola- it's done but that's not how I did it! The first time I made French fries; it was an awful experience. Now, that I know how to make the perfect french fries, I can now look back and laugh but here's how it happened:
I was newly married and had never cooked in my life! 
Ever since I was a child, I was always a clean freak and it made the idea of cooking extremely difficult. As a result, I found myself as a new wife without any basic knowledge of cooking. My husband and I had a relative coming for dinner to congratulate us on our wedding. My ex-mother-in-law (God bless her soul) spent two days in the kitchen cooking up all kinds of yummy traditional Jordanian dishes from stuffed zucchini and dwallii to prepare for our dinner guests.
Cooking Jordanian food was not possible since I was a total newbie.
Jordanian food has many layers of flavors which work perfectly together! Often contrasting tastes such as sweet vs. salty or sweet vs. spicy hot peppers complement each other beautifully. So, now back to the story; by the time she finished cooking, there were more than ten different mouthwatering main courses.
As a dutiful daughter-in-law; I wanted to share her responsibilities.
So, I decided to cook a simple dish.
When my ex-husband asked me if I could make French Fries, I was elated to help and quickly agreed! I was sure I knew how to make fries and didn't think it would be difficult since I had watched my mom make French fries a million times before. So, I quickly got started. I expertly washed and peeled the best potatoes for the fries. Then I cut them into lengthwise sticks. Then, I poured some oil into a frying pan and dropped the potato sticks into the oil one by one.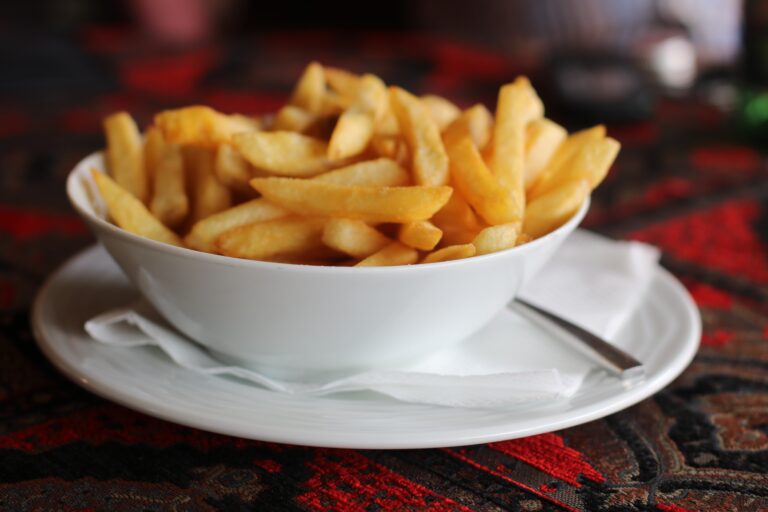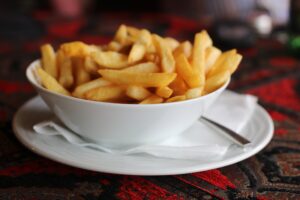 I stood there watching my French fries cook forever.
I didn't know that the oil should be hot and ready before adding the potatoes for the French fries.  
The dinner table was a hive of activity, with everyone seated and chatting away. The mood in the room is one that you often find on Thanksgiving or Christmas morning. We were all excited with the pure joy of being together again after being apart for so many years.
While everyone was waiting for the feast to begin, I was waiting patiently and stirring the fries in the cold oil. I was anxious and was struggling to understand why my French fries were not turning the right shade of brown. 
I felt dejected and overwhelmed.
I tried to make something that I have never done and it turned out to be a disaster. 
 After a long mental debate, I decided to turn off the stove. I took  the fires out and put them on a nice plate to serve. I walked straight to the dining table, sat next to my ex-husband, and put down the first food I had ever cooked in my entire life. I was waiting for him to take a look at my French fries and tell me how amazing it looked. But this has never happened. He looked at me, disappointed and told me to take it back to the kitchen quietly. Well, that was almost thirty-four years ago. 
Now, I have learned more than the basics of cooking French fries.
I have come a long way in my cooking journey! I learned my lesson the hard way (such as how to heat the oil before trying to fry foods). I can now confidently say that I have developed the best French fries recipe that is sure to get you the best compliments. Check out my recipe to see how I make the crispiest French fries here!