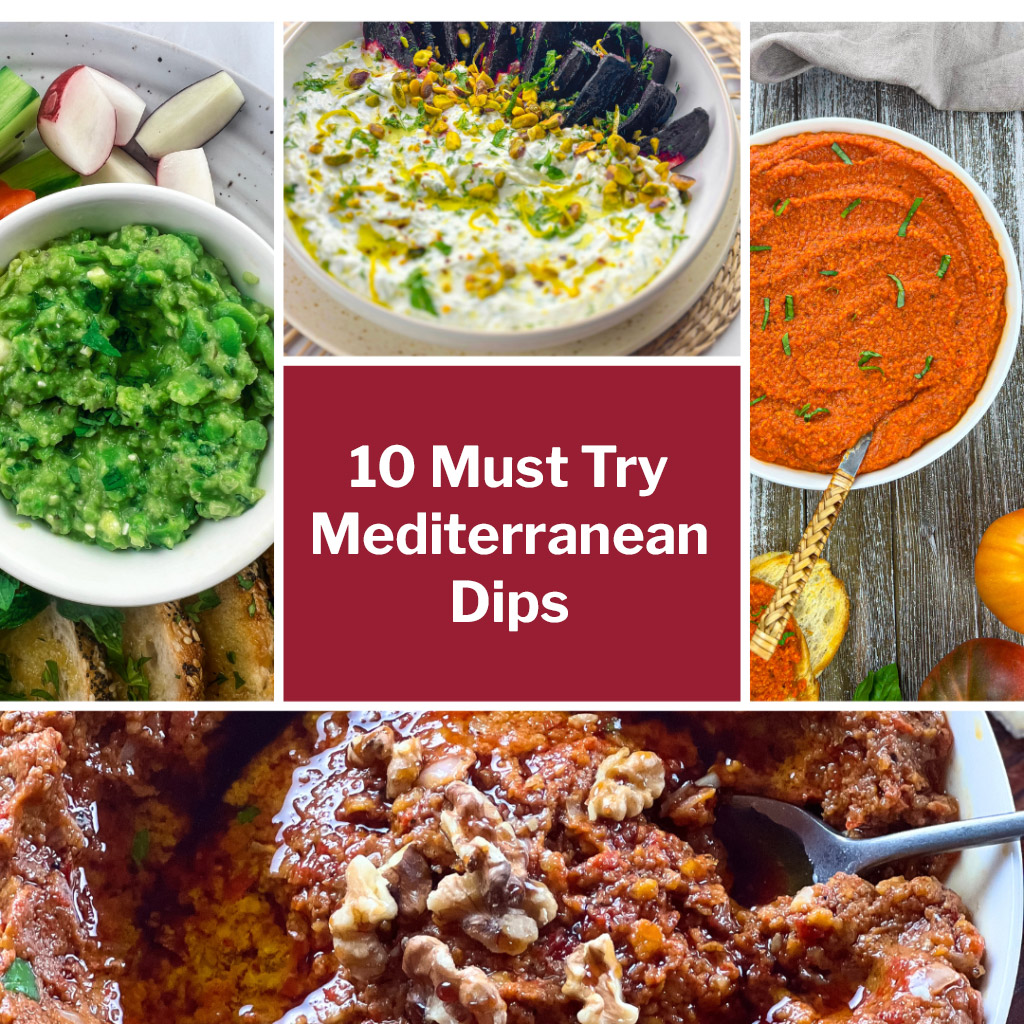 The beauty of Mediterranean recipes lies not just in their main dishes but also in their versatile and flavorful accompaniments. From the shores of Spain to the heart of Lebanon, each region offers unique dips that turn a simple meal into a gastronomic celebration. While many are familiar with the velvety texture of Hummus or the refreshing essence of Tzatziki, the Mediterranean offers a myriad of lesser-known healthy dips waiting to be uncovered.
Dive deep into the vibrant colors of our Whipped Feta Dip with Roasted Beets, capturing the essence of both creaminess and earthiness—a journey through the tantalizing flavors of Muhammara, where red pepper meets walnut in a dance of smokiness. Experience the depth of Moutabal, a traditional sauce that resonates with the soul of the Mediterranean. And, of course, the classic Baba Ghanoush, a testament to the simple brilliance of eggplants.
Each recipe in our collection tells a story, from the tender burst of Fresh Fava Bean Dip to the robust hues of Roasted Beet Hummus. Relish the piquant charm of Authentic Lebanese Garlic Sauce and savor the richness of Romesco, Spain's gift to the world of dips.
Whether preparing a feast for a special occasion or simply elevating your daily meals, these Mediterranean dip recipes promise a journey of flavors, textures, and traditions. Prepare your palate, fetch your favorite dippables, and let's embark on this delicious adventure!
A delightful blend of creamy feta meets the earthy undertones of roasted beets, creating a visually striking and palatable treat. This dip stands out as a vibrant sandwich spread and shines as a base for a Mediterranean-style pizza. Its bold flavors make it a favorite for crudité platters, perfectly complementing fresh vegetables.
Dive into this smoky, slightly spicy blend of roasted red peppers and walnuts, enhanced by pomegranate molasses. Its rich texture and flavor make it a dream to drizzle over grilled chicken or to stir into cooked quinoa, adding a Middle Eastern flair.
An ode to the smoky flavor of eggplants, this dip, accentuated with tahini and lemon, offers a more profound, richer alternative to Baba Ghanoush. It wraps up grilled
vegetables perfectly and is a commendable companion to roasted meats.
The cherished blend of chickpeas and tahini, seasoned with a dash of garlic, lemon, and olive oil, stands tall in the dips world. Think beyond the dip – swirling it into salad dressings or tossing it with cooked chickpeas and veggies promises a hearty meal.
Celebrate fava beans' vibrant and creamy essence, complemented by hints of garlic and herbs. Whether blended into pasta for an immediate creamy uplift or layered in a veggie-packed sandwich, it's a green delight.
This classic Mediterranean marvel of charred eggplants, tahini, and garlic offers a balance of smoky and creamy textures. Consider enhancing omelets with their richness or spreading them on flatbread before giving them a quick toast.
This nut and red pepper-based sauce from Spain offers a rich and tangy flavor journey. Imagine it paired with grilled seafood, setting the stage as a flavorful base for paellas, or generously drizzled over roasted vegetables, enhancing their natural sweetness and char.
Bask in the coolness of this Greek dip, where creamy yogurt melds with crisp cucumber, fragrant dill, and a touch of garlic. Whether drizzled over grilled fish or combined with diced veggies for a quick salad, it's a refreshing escape.
Savor the intense kick of this creamy garlic emulsion, reminiscent of whipped cream but packed with a garlicky punch. This sauce perfectly complements shawarma, chicken kebabs, and grilled chicken, serving as both a spread and a dip, especially for those irresistible French fries.
A delightful spin on classic Hummus, this version incorporates roasted beets for depth and a pop of color. Ideal as a dip for vegetable sticks and pita chips, it also works wonders when spread on sandwiches or even as a vibrant companion to roasted vegetables.
Dive into the rich flavors of the Mediterranean with these delightful, healthy dips. Perfect for pairing with fresh vegetables, sandwiches, or traditional dishes, they're the ideal way to elevate any meal. Explore, enjoy, and let every taste remind you of the Mediterranean region's sun-drenched shores and culinary magic.
Your Turn!
Are you eager to dive into the world of Mediterranean delights? Try one (or all) of these dips, and let us know your experience. Share your culinary creations on social media using the hashtag #MediterraneanDipMagic. Do you have a favorite Mediterranean recipe or a twist on one of these dips? Drop a comment below; we'd love to hear from you and share your culinary journey!