Join me in my summer tradition as we turn garden-fresh basil into a flavor-packed basil oil that's perfect for elevating your everyday dishes.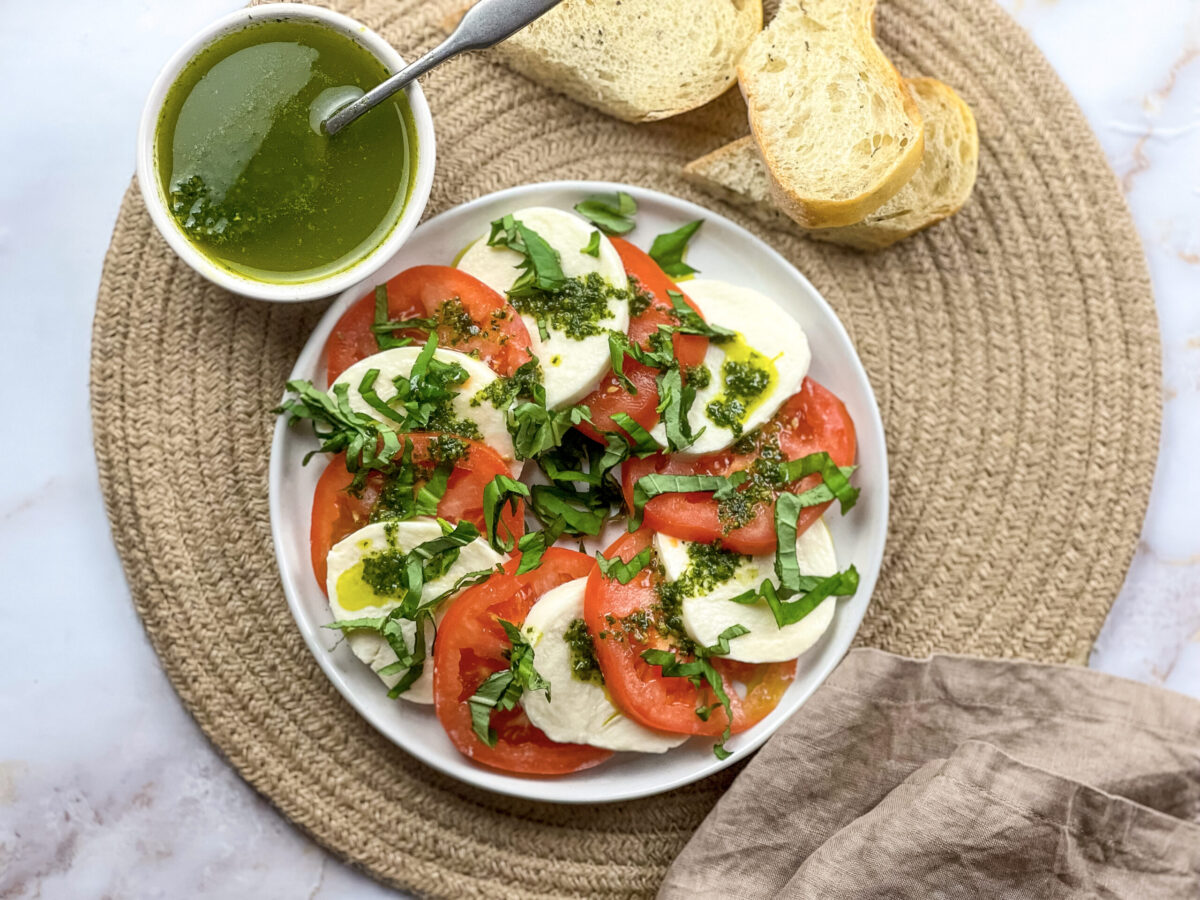 So, I've got this tradition every summer, right? I head down to my local Trader Joe's and spot this small basil plant, that costs me just $5.99. I had to bring it home, and the real fun begins.
What I do next might surprise you. I split that one plant into four – yes, you heard me right, four. Then, I go outside and plant them right next to my tomatoes. Something about that combo just works – the basil makes my tomatoes taste even better if you can believe it.
These tiny plants transform into a veritable basil forest as summer rolls on. And let me tell you, the smell is amazing. The best part is that these plants just give right through the entire summer.
My homemade basil oil is one of my favorite things to whip up with all this basil. It's super simple, but the flavor? Unbelievable. And I can even freeze it and enjoy that little hint of summer all year round. So, how do I do it, you ask? Well, let me walk you through…
Why Extra-Virgin Olive Oil Matters in Basil Oil
Extra-virgin olive oil is where it's at when you're making something as flavor-focused as basil oil. Unlike regular or light olive oil, extra-virgin olive oil is made from pure, cold-pressed olives. This means it's less processed, helping it retain those natural anti-inflammatory and antioxidant properties that we love so much. Plus, it has a richer, fuller flavor that really stands out.
Now, you might be wondering why extra-virgin olive oil is so special, right? Here's the thing: it's not just about taste. Extra-virgin olive oil is a cornerstone of the Mediterranean diet, one of the world's healthiest eating patterns. This diet is linked to heart health, longevity, and even mental well-being, with olive oil playing a starring role.
So, in a nutshell, choosing extra-virgin olive oil for your basil oil doesn't just elevate the flavor of your dishes, it also brings a piece of the Mediterranean's health benefits right to your kitchen. Not a bad deal, right?
Basil Oil in Dips, Dressings & More
Basil oil is your go-to when you want to dial up the flavors of your dishes. This herb-infused oil can transform a simple meal into a gourmet experience with its robust basil flavor.
One of my personal favorite ways to use it? As a dipping sauce. Pair it with a piece of crusty ciabatta bread and, trust me, it's a match made in food heaven. For the adventurous ones among you, why not try baking your own homemade bread? The satisfaction of dunking a piece of bread you made yourself into the basil oil is second to none.
But let's not limit ourselves to just bread. Basil oil is incredibly versatile. Swap out regular oil in your salad dressings for a bit of basil-infused magic. Ever tried it in a Caprese salad? It's a game changer. And it's not just salads – basil oil can elevate your grilled fish or a simple pasta dish to a whole new level.
And guess what? This is just one of the ways you can use the bounty of basil from your garden. I also have recipes for basil butter and basil pesto that can further help you to preserve and enjoy your basil harvest throughout the year. These are not just versatile and delicious, but also a great way to bring a touch of summer to your meals all year round.
How to Make Homemade Basil Oil Recipe
1.
Place the basil, garlic, jalapeno salt, and black pepper in the food processor.
2.
Process the ingredients until all smooth for about 2 minutes.
3.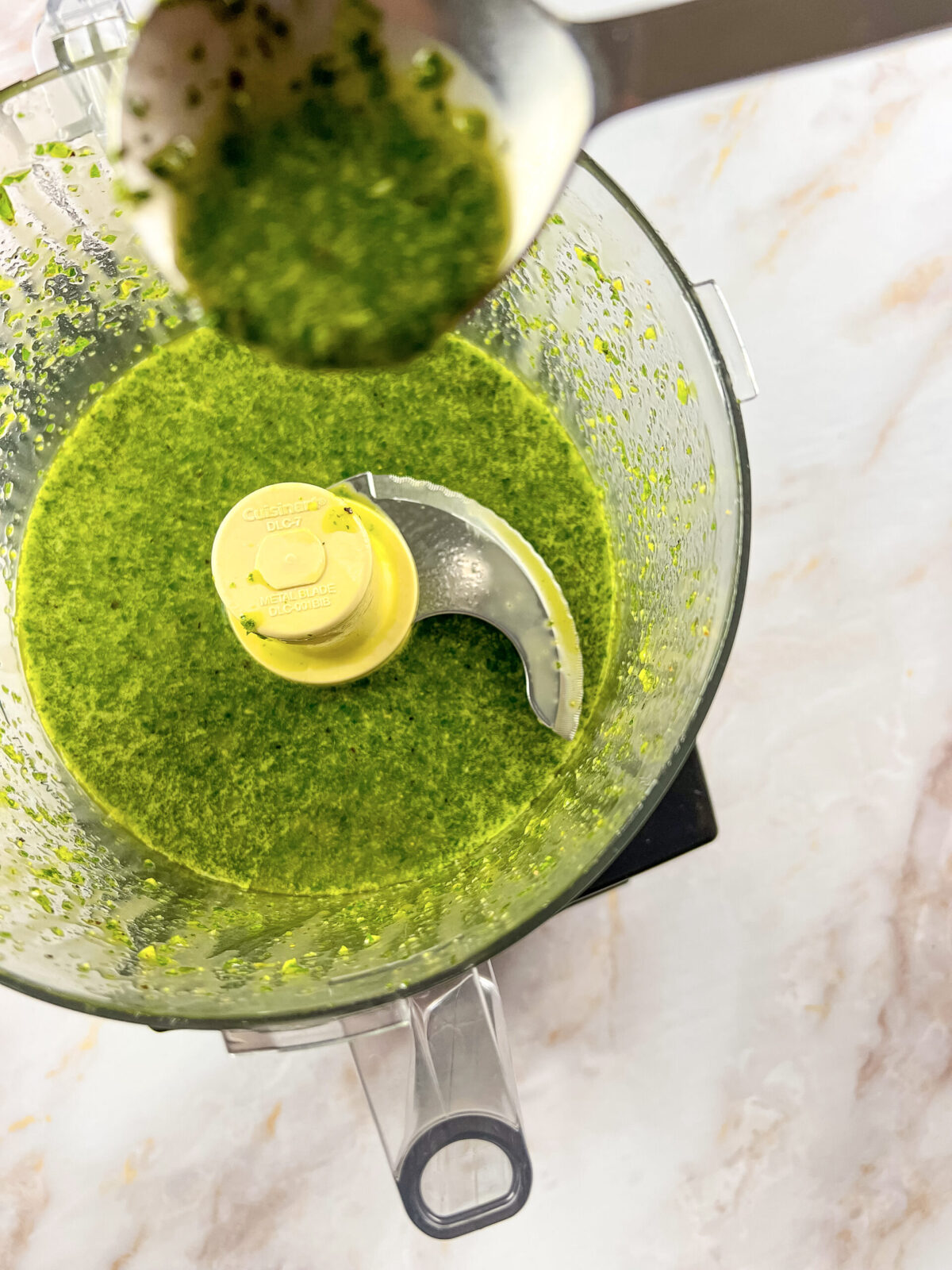 Stop the food processor and scrape the sides. Add the oil and blend for another minute.
4.
Adjust seasoning to your taste.
Print & Share This Recipe!
Adjust Servings
2

cups

compacted basil leaves (cleaned and dry)

1

cup

extra virgin oil

1

jalapeno (roughly chopped)

3

garlic cloves (sliced)

½

teaspoon

salt

½

teaspoon

black pepper
Preparation
Place the basil, garlic, jalapeno salt, and black pepper in the food processor.
Process the ingredients until all smooth for about 2 minutes.
Stop the food processor and scrape the sides. Add the oil and blend for another minute.
Adjust seasoning to your taste.
Recipe Tips & Suggestions
Storing Basil Oil
In the Fridge: Store your basil oil in the refrigerator in an airtight container or jar. Make sure the container is clean and dry before adding the oil. When properly stored, the oil can last up to one week.
Freezing Basil Oil
Ice Cube Trays: One of the easiest ways to freeze basil oil is in an ice cube tray. Once frozen, you can pop out the cubes and store them in a freezer bag or container. This method also allows you to easily use the amount you need without defrosting the entire batch. Freezer-Safe Containers: If you don't want to freeze your basil oil into cubes, you can also use a freezer-safe container. Again, make sure it's clean and dry before adding the oil. Use within Six Months: For the best flavor, try to use your frozen basil oil within six months.
Nutrition Information
The information shown is an estimate provided by an online nutrition calculator. It should should not be considered a substitute for a professional nutritionist's advice.
See our full nutrition disclosure here.
Have You Tried This Mediterranean Recipe?
If So, Mention Us @ranasrecipe
Or Use Hashtag #ranasrecipe
Let's Start Cooking With Love!
Tell Me How I'm Doing?
Ready to bring a taste of summer to your kitchen? Give this recipe a try, and let me know how it goes! Share your culinary creations on Instagram, tag me, or comment below. I can't wait to see how you use your homemade basil oil!