f you enjoy cooking, you should know how to make an excellent cashew cream. This versatile and dairy-free alternative is not only a delicious substitute for heavy cream but also a great choice for those seeking a natural and flavorful option, especially if you're lactose intolerant, vegan, or following a dairy-free cleanse. While coconut milk is a common go-to for dairy-free cooking, cashew cream offers a creamy texture and a nutty richness that can enhance a wide range of dishes without the distinct coconut flavor. Let's dive into the simple steps of making your very own cashew cream.
To keep things simple, I usually make a batch of cashew cream a day before starting a cleanse so that it's easily accessible and on hand when I'm ready to prepare a delicious, healthy, cleanse-friendly soup like cauliflower parsnips. Because I use this recipe when I'm on a cleanse, I use filtered water and minimal soup. This particular recipe is not thick. If you prefer a thicker cream, you can adjust it by changing the ratio of cashews to water. For example, the recipe below calls for two parts water to one part cashews. You can quickly reverse this to 2:1 cashew to water for a nice, thick cream. Finally, I like to add garlic and nutritional yeast to the recipe to add volume and increase the nutritional value.
Ingredient in your cashew cream recipe:
Unsalted Cashews: Cashews provide a creamy and nutty base for the cream, imparting a rich and slightly sweet flavor. They also contribute to the smooth texture of the cashew cream.
Clove of Garlic: Garlic adds a subtle pungency and depth of flavor to the cashew cream. It provides a savory note that complements the nuttiness of the cashews.
Nutritional Yeast: Nutritional yeast contributes a mild cheesy and umami flavor to the cream. It helps create a dairy-like richness without actual dairy products, making it an excellent choice for vegan and dairy-free alternatives.
Sea Salt: Sea salt enhances the overall flavor of the cashew cream by providing a balanced salty taste. It helps bring out the natural flavors of the other ingredients.
Filtered Water: Water is the key to achieving the desired consistency of the cashew cream. It allows you to control the thickness and creaminess, ensuring it blends smoothly.
Lime or Lemon Juice: Lime or lemon juice adds a bright and tangy citrus note to the cream. It balances the richness of the cashews and imparts a refreshing zing to your dishes.
These ingredients come together to create a versatile and flavorful cashew cream that can elevate a wide range of recipes, from creamy soups to dairy-free sauces and desserts.
What is Nutritional Yeast? 
Nutritional yeast is incredibly popular in vegan and clean cooking. It is a powdered, deactivated yeast that isn't used for baking but provides tons of valuable vitamins and nutrients, antioxidants, and protein. Nutritional yeast has been shown to reduce cholesterol levels and boost heart health. The antioxidants present help to protect against cell damage and certain diseases.
Tips for Making Cashew Cream
 Should I Soak the Cashews?
Soaking cashews before blending serves two purposes. First, it softens the cashews, making them easier to blend into a creamy texture. Second, it reduces the phytic acid content in cashews, which can interfere with nutrient absorption in your body. Soaking enhances the creaminess and nutrient absorption of your cashew cream.
 Blending the Cashews
To achieve the desired creamy consistency for your cashew cream, you'll need a robust and reliable blender. Avoid overloading the blender with too many cashews to prevent any potential damage to the appliance.
 Lemon Juice or Lime Juice?
You have the option to choose between lemon and lime juice for your cashew cream. Both citrus fruits add a tangy and zesty flavor to the cream, enhancing its taste and health benefits. The choice between lemon and lime comes down to personal preference. Lime juice tends to be slightly more bitter, while lemon juice offers a touch of sweetness. Experiment with both to discover your favorite flavor profile.
These tips will help you create a delicious and versatile cashew cream that can enhance various dishes while maximizing its health benefits.
How Can I Enjoy Cashew Cream?
Cashew cream is a versatile ingredient that can elevate various recipes, especially soups such as cream of mushroom, butternut squash, or tomato soup. With its subtle flavor, cashew cream provides a rich and creamy texture without overpowering the dish. Add a dollop of cashew cream to these soups for a delightful, dairy-free alternative that enhances their taste and adds a creamy touch. Additionally, it can be used in homemade salad dressings, dips, sauces, smoothies, and more, offering a versatile and delicious substitute for heavy cream or coconut milk.
How to Make How to Make Cashew Cream at Home?
1.
Measure three cups of filtered water in a large measuring cup or a bowl. Add the cashews and allow them to soak for at least two hours.
2.
Using a blender, add the soaked cashews with the water, clove of garlic, salt, lime juice, and nutritional yeast.
3.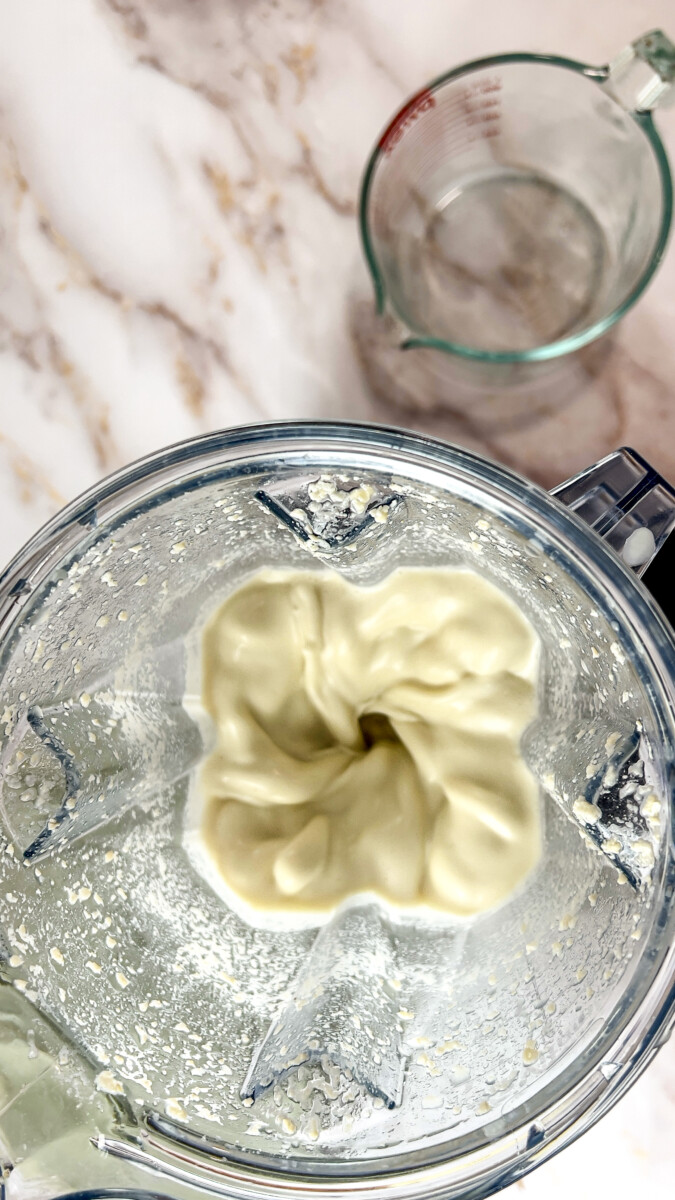 Blend until incorporated well.
4.
Keep it in a glass container in the refrigerator. Enjoy!
Print & Share This Recipe!
Learn how to make cashew cream at home with this simple and versatile recipe. Cashew cream is a dairy-free, creamy alternative that adds richness to both sweet and savory dishes. Use it in soups, sauces, desserts, and more to elevate your cooking and enjoy a luscious, plant-based creaminess.
Adjust Servings
1 ½

cups

cashews

1

clove garlic

2

tablespoons

nutritional yeast

½

teaspoon

salt

3

cups

filtered water

2

tablespoons

lime or lemon juice
Preparation
Measure three cups of filtered water in a large measuring cup or a bowl. Add the cashews and allow them to soak for at least two hours.
Using a blender, add the soaked cashews with the water, clove of garlic, salt, lime juice, and nutritional yeast.
Blend until incorporated well.
Keep it in a glass container in the refrigerator. Enjoy!
Nutrition Information
The information shown is an estimate provided by an online nutrition calculator. It should should not be considered a substitute for a professional nutritionist's advice.
See our full nutrition disclosure here.
Have You Tried This American Recipe?
If So, Mention Us @ranasrecipe
Or Use Hashtag #ranasrecipe
Let's Start Cooking With Love!
Tell Me How I'm Doing?
I would love to hear from you! Have you tried making homemade cashew cream? Share your thoughts and experiences in the comments below. Your feedback and ideas inspire us to create more delicious recipes.