I'm excited to share a selection of twenty Authentic Mediterranean dishes close to my heart. The Mediterranean diet, praised by nutritionists and doctors, isn't just a meal plan; it's a centuries-old way of life known for wellness and flavor.
At its core are vibrant ingredients renowned for their health benefits and natural flavors. Take olive oil, for example; it's not just fat—it's a liquid treasure packed with heart-healthy monounsaturated fats and antioxidants.
Picture sun-drenched fields yielding juicy tomatoes, tender eggplants, and crisp zucchini. These ingredients form the foundation of Mediterranean recipes, offering fiber, vitamins, and minerals. And don't forget the cheeses—artisanal gems like creamy feta and halloumi provide flavor and calcium.
But there's more to Mediterranean food. Whole grains like farro and freekeh have been dietary staples for ages, offering a hearty texture and nutrients. And legumes like chickpeas and fava beans, rich in protein, serve as versatile bases for Mediterranean dishes, absorbing the flavors of herbs and spices.
The Mediterranean Sea isn't just a scenic backdrop; it offers a variety of seafood, bringing Omega-3 fatty acids and essential nutrients to the table. Together, these ingredients create a diverse diet as varied as the cultures along the Mediterranean shores.
Our roundup of "21 Traditional Mediterranean Recipes" is more than a collection of dishes; it's a homage to a dietary heritage that celebrates health and hedonism. These recipes are gateways to experiencing a diet many have adopted for its merits in promoting well-being without sacrificing pleasure. So, let us embark on this journey together, exploring the rich flavors and wholesome benefits of the Mediterranean way of eating.
Western Mediterranean Cuisine
Western Mediterranean cuisine is a flavorful tapestry woven with the freshest ingredients from both land and sea. Countries like Italy, Spain, France, Malta, and Monaco boast culinary traditions steeped in history, with each region offering its unique twist on the Mediterranean diet. Known for its emphasis on heart-healthy olive oil, seafood, whole grains, legumes, vegetables, and an exquisite variety of cheeses and wines, this cuisine is as nutritious as it is delicious. Ingredients are often used at the peak of their season, ensuring each dish bursts with flavor and pays homage to the region's abundant natural bounty.

Sicilian Scaccia Bread
Sicilian Scaccia Bread, a true staple of Sicilian street food, is a marvel of simplicity and taste. This rustic, flatbread-style delight is akin to a rolled pizza, with layers of dough enveloping rich tomato sauce, melty cheese, and often fragrant basil or other hearty fillings. It's baked until the exterior is satisfyingly crisp, and the interior remains wonderfully soft and steamy. Enjoyed warm, Scaccia perfectly embodies Sicilian comfort and culinary tradition – a versatile dish that can be adapted with various fillings to suit any taste.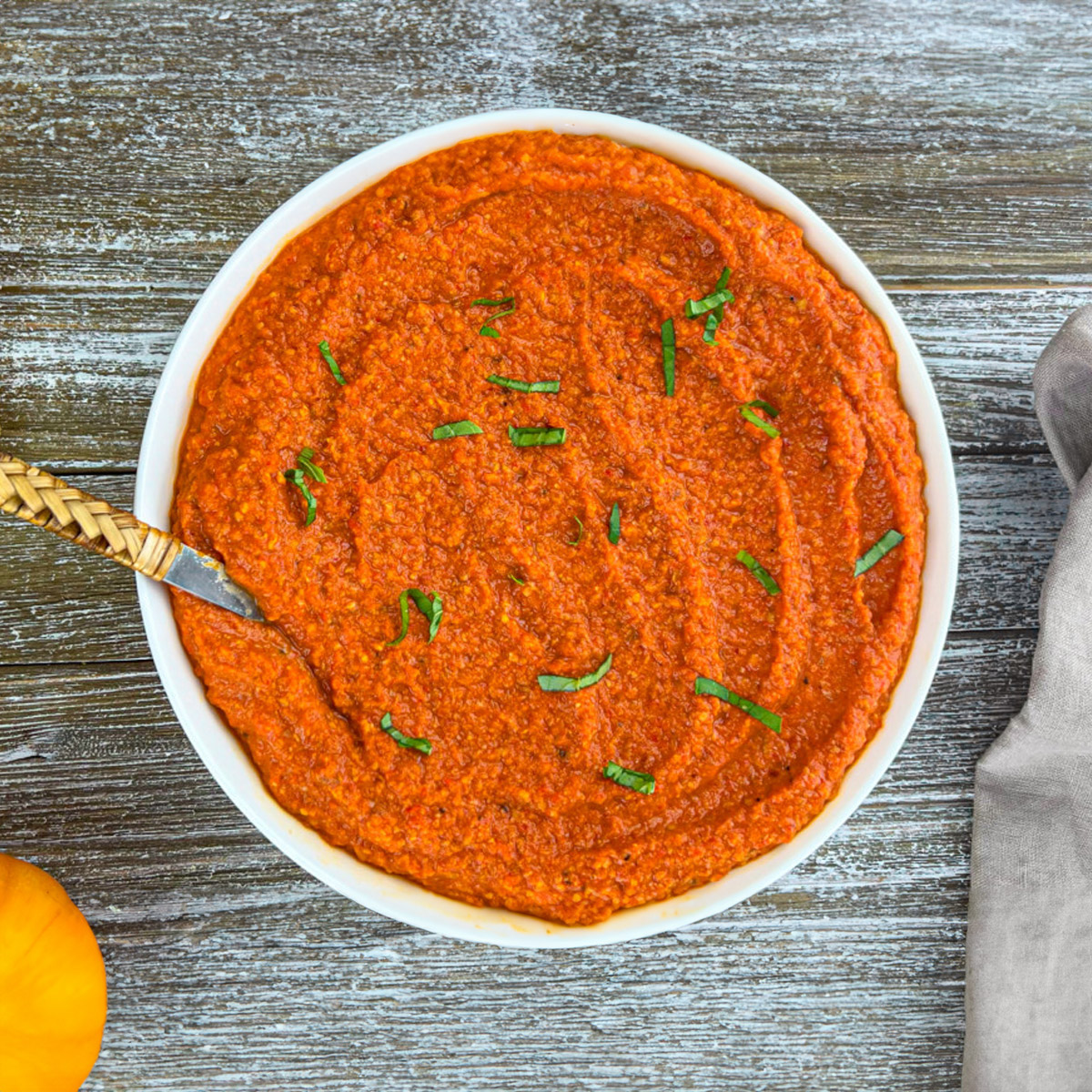 Spain: Romesco Sauce
Romesco Sauce is a vibrant celebration of Spanish flavors originating from Catalonia. This robust, nutty sauce is a blend of roasted red peppers, tomatoes, toasted almonds, and garlic, all finely ground to create a texture that's luxuriously smooth yet pleasantly hearty. Often brightened with a dash of vinegar and a hint of smoky paprika, Romesco sauce is a versatile companion to grilled seafood and roasted vegetables or a lively spread for bread. It's a sumptuous addition to any meal that requires a touch of Spanish flair and a burst of rich, complex flavors.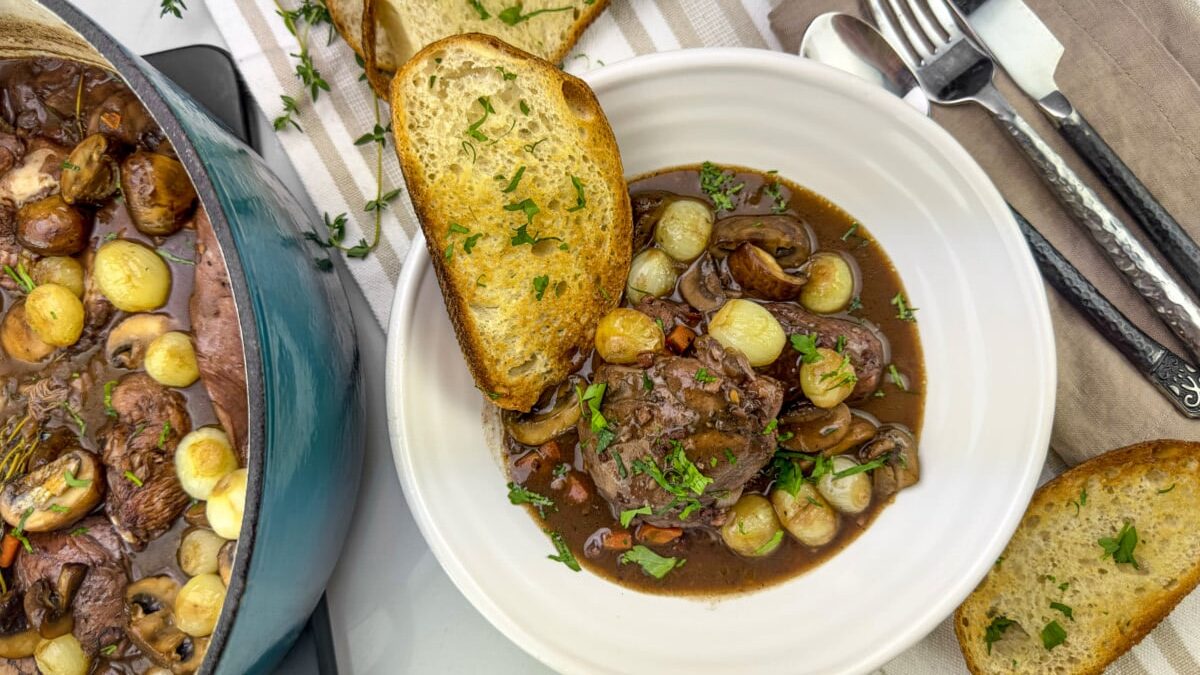 France: Traditional Coq au Vin
Traditional Coq au Vin is a classic of French cuisine. This hearty stew exudes the warmth and soul of rural France. "oq au Vin" translates to "rooster in wine," this dish traditionally simmered an old rooster in a rich red wine sauce infused with the earthy flavors of bacon, mushrooms, onions, and a bouquet garni of herbs. Modern versions often use chicken, marinated and braised until tender in a wine that permeates the meat with a deep, savory complexity. The result is a sumptuous, rustic dish with layers of flavor that speak to the time-honored techniques of French cooking. Coq au Vin is not just food; it's an edible narrative of French heritage.
Malta: Maltese Ricotta and Peas Pie
The Maltese Ricotta and Peas Pie, or "orta tal-Irkotta u l-Piżelli," is a beloved traditional dish from the heart of Mediterranean Malta. This savory pie marries the creaminess of fresh ricotta cheese with the sweetness of green peas, all encased in a flaky, golden pastry crust. Herbs such as mint or parsley are often added to the filling, infusing the pie with aromatic flavors that complement the mildness of the ricotta and the peas. This dish is a staple during the spring in Malta when peas peak, making it a seasonal favorite that's comforting and refreshingly simple. Whether served as a main course or a hearty snack, this pie is a delightful slice of Maltese hospitality.
Monaco: Barbajuan
Barbajuan, often nicknamed the "national dish of Monaco," is an appetizer that captures the essence of Monegasque cuisine. This iconic turnover is typically stuffed with a savory mixture of chard, spinach, or leeks combined with ricotta cheese, parmesan, and herbs, then delicately fried to achieve a crispy, golden exterior. The result is a deliciously soft, warm filling with a satisfying crunch, blending the flavors of the Mediterranean garden and dairy in each bite. Often served during festive occasions and particularly savored on National Day, Barbajuan is more than just a treat; it's a bite-sized celebration of Monaco's heritage.
Eastern Mediterranean
With its rich palette of flavors, Eastern Mediterranean cuisine is revered for its diverse and healthful approach to dining. Spanning across Greece, Turkey, Lebanon, Syria, and Palestine, this culinary tradition is celebrated for its abundant use of olive oil, grains, fresh fruits and vegetables, and various herbs and spices. It's a cuisine that's as nutritious as it is delicious, often centered around communal and shared meals that bring people together. From the meze platters designed for social gatherings to the succulent grilled meats and ocean-fresh seafood, every dish is an invitation to experience the warmth and generosity of Eastern Mediterranean hospitality.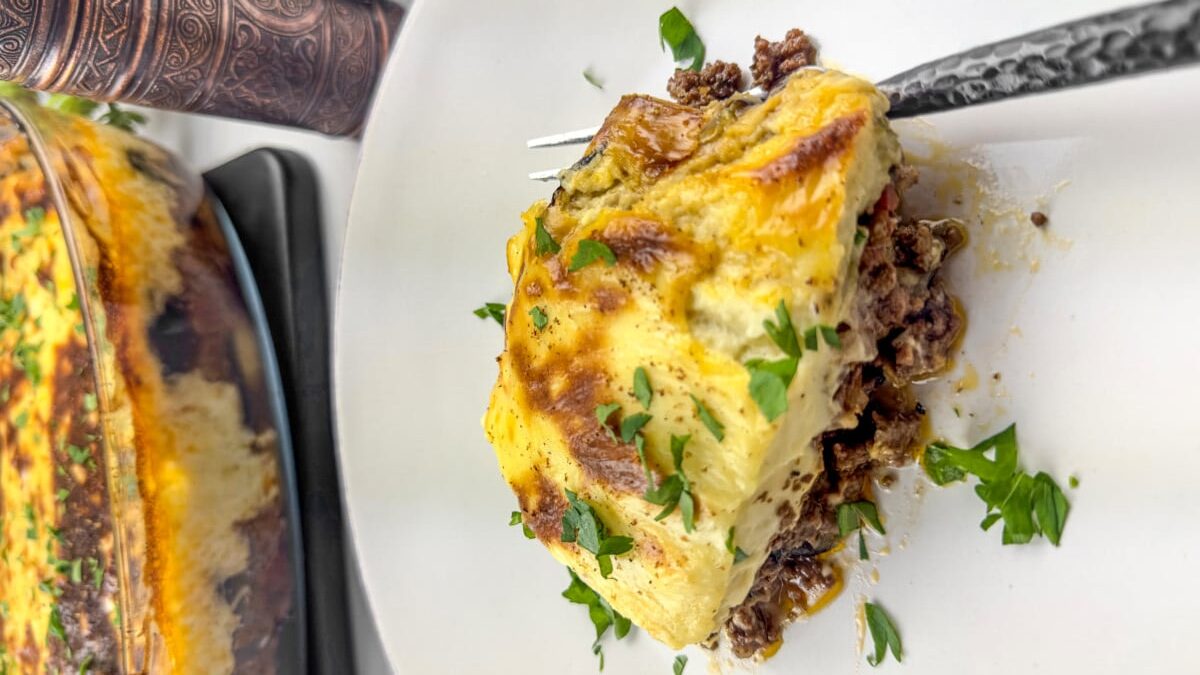 Greece: Traditional Greek Moussaka
Traditional Greek Moussaka is a quintessential dish in Greek cuisine, a beloved classic that layers sautéed eggplant with spiced ground meat, often lamb or beef, all smothered under a velvety béchamel sauce. Each layer is seasoned with a harmony of herbs and spices, including cinnamon, oregano, and garlic, creating a rich tapestry of flavors. The moussaka is baked to perfection in the oven, allowing the top to develop a golden-brown crust that hides the tender, flavorful interior. This dish is a staple in Greek households, a hearty, comforting meal that's as satisfying as it symbolizes Greek culinary traditions.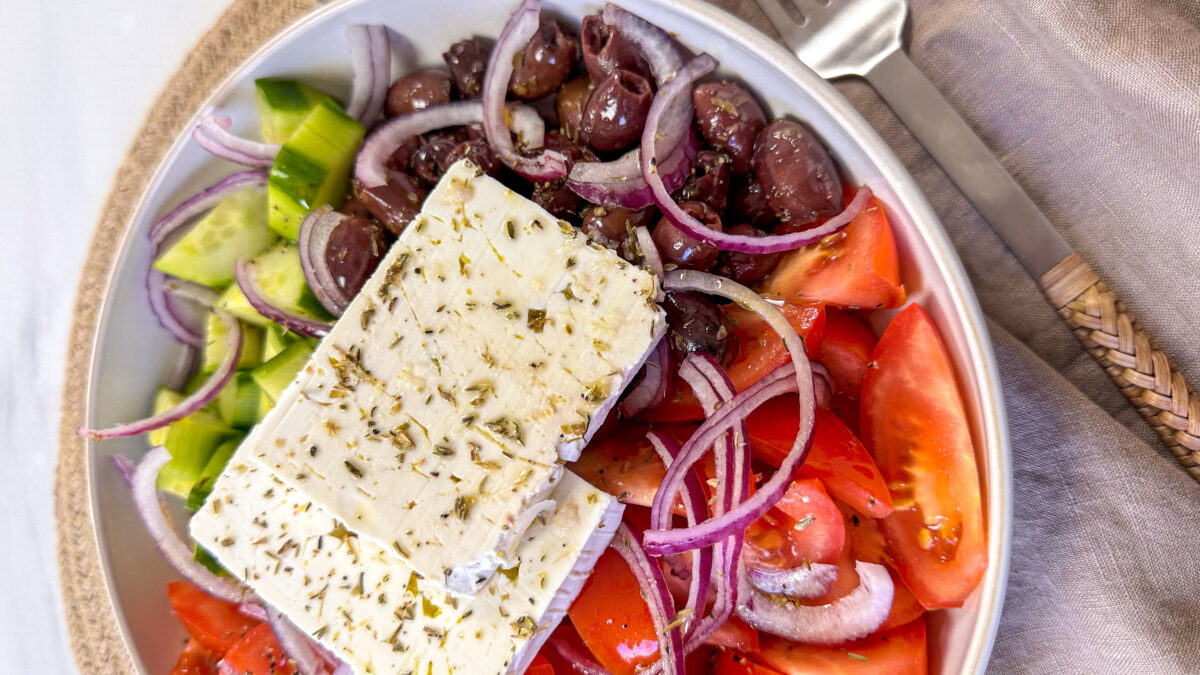 Traditional Greek Salad
Traditional Greek Salad, known as Horiatiki in Greece, epitomizes Greek simplicity and flavor. This rustic Salad is a colorful combination of ripe tomatoes, crisp cucumbers, sharp red onions, and green bell peppers. It's adorned with thick slices of creamy feta cheese and kalamata olives, often drizzled with high-quality Greek olive oil and sprinkled with oregano. Unlike salads mixed with leafy greens, the Greek salad stands out for its absence of lettuce, which allows the medley of vegetables and the tanginess of the feta cheese to take center stage. Fresh, wholesome, and vibrant, it's a staple dish that brings a piece of the Mediterranean sun to your table.

Turkey: Menemen (Quick and Easy Breakfast)
Get The Recipe
Turkish Menemen is a beloved breakfast dish in Turkey, celebrated for its simplicity, heartiness, and versatility. It's a scramble of eggs cooked gently with ripe tomatoes, green peppers, and onions, often spiced with a touch of black pepper, paprika, or a sprinkle of chili flakes for heat. This dish is typically cooked in olive oil or butter and has a slightly saucy consistency, with the eggs just around the vegetables. Menemen is usually served straight from the skillet it's cooked in, often with a side of crusty bread to scoop up the flavorful mixture. It's quick, easy to prepare, and customizable to personal taste, sometimes enhanced with crumbled feta cheese, cured meats, or additional herbs. Perfect for a leisurely weekend morning or a swift weekday breakfast, Menemen is a taste of Turkish hospitality that's savored across the country.
Lebanon: Lebanese Kibbeh
Delight in authentic, traditional Mediterranean appetizers with Lebanese Kibbeh. This heritage recipe mixes ground meat with bulgur and spices, then shaped and cooked to preference. Its crunch and spice burst make it a festive favorite, rich in Levantine flavors.
Syria: Lamb Fatteh with Tahini Yogurt Sauce
Lamb Fatteh is a classic Syrian dish that layers tender chunks of lamb, crispy pieces of flatbread, and a tangy tahini yogurt sauce. It's often garnished with pine nuts and a sprinkle of paprika, combining textures and flavors into a warm, comforting meal. The creamy yogurt and tahini sauce complements the rich, spiced lamb, while the bread adds a delightful crunch, making every spoonful a balanced bite of Middle Eastern comfort food.

Palestine: Chicken Musakhan
Palestinian Chicken Musakhan is a hearty and aromatic dish that stands as a symbol of Palestinian hospitality. This traditional meal features sumac-spiced chicken roasted until succulent then layered atop flatbread with caramelized onions. The bread soaks up the juices from the chicken, becoming incredibly flavorful. Musakhan is typically garnished with toasted pine nuts and fresh parsley, offering a rich flavor dish with a perfect combination of tanginess from the sumac and sweetness from the onions. It's a communal dish, often served on large platters meant to be shared amongst family and friends, embodying the spirit of togetherness.
Southern Mediterranean
Feast on authentic Mediterranean recipes and gather inspiration for your next Mediterranean dinner idea from the Southern shores. Morocco, Tunisia, Libya, and Egypt are enchanted with vibrant flavors. Drizzles of olive oil, fresh seafood, and grains like couscous set the stage. Spices, legumes, figs, and almonds enhance every dish. Here, meals are joyous, communal celebrations of culture and cuisine.

Morocco: Chicken Tagine
 Tonight's Mediterranean dinner is a Moroccan masterpiece. Enjoy chicken with olives and lemons, seasoned with ginger, turmeric, and saffron. Each ingredient weaves a rich flavor story. Simple, aromatic, and ideal for family meals, it effortlessly brings Morocco's exotic tastes to your table.
Tunisia: Couscous
Embrace the Mediterranean lifestyle with this simple Tunisian Couscous recipe. Quick to prepare, it melds fluffy grains with harissa, cumin, and coriander. Vegetables, and sometimes chickpeas or meat, add color and variety. It's an easy, flavorful meal for any day.
Libya: One-Pot Libyan Mbakbaka
 Whip up a one-pot Mediterranean dinner with this comforting staple. Pasta simmers in spicy tomato sauce with herbs, chili, and tender meat. Easy prep, hearty flavors, and simple cleanup make it ideal for family dining. Mbakbaka is a testament to Libya's love for bold spices and intense, warming dishes that unite people.
Egypt: Egyptian Koshari
Explore vegetarian Mediterranean recipes with Egyptian Koshari. This staple layers rice, macaroni, and lentils, crowned with spicy tomato sauce and crispy onions. Chickpeas add a protein punch. It's a flavorful mix, perfect for a filling, nourishing meal that captures Egypt's culinary spirit.
Southeastern Europe (Balkans)
Discover authentic Mediterranean recipes from Southeastern Europe's Balkans, where diverse influences craft a rich taste tapestry. Grilled meats, robust stews, and a cheese array define the fare. Fresh salads echo the love for produce. Communal meals turn dining into festive, warm gatherings.
Croatia: Fish Stew Brodet
Dive with me into Mediterranean recipes with my Croatian Fish Stew Brodet. A medley of fish and shellfish, bathed in a herbed tomato-wine broth, showcases Adriatic flavors. Simple yet soulful, it pairs perfectly with polenta or bread to savor every drop. Fresh, flavorful, and a seaside tradition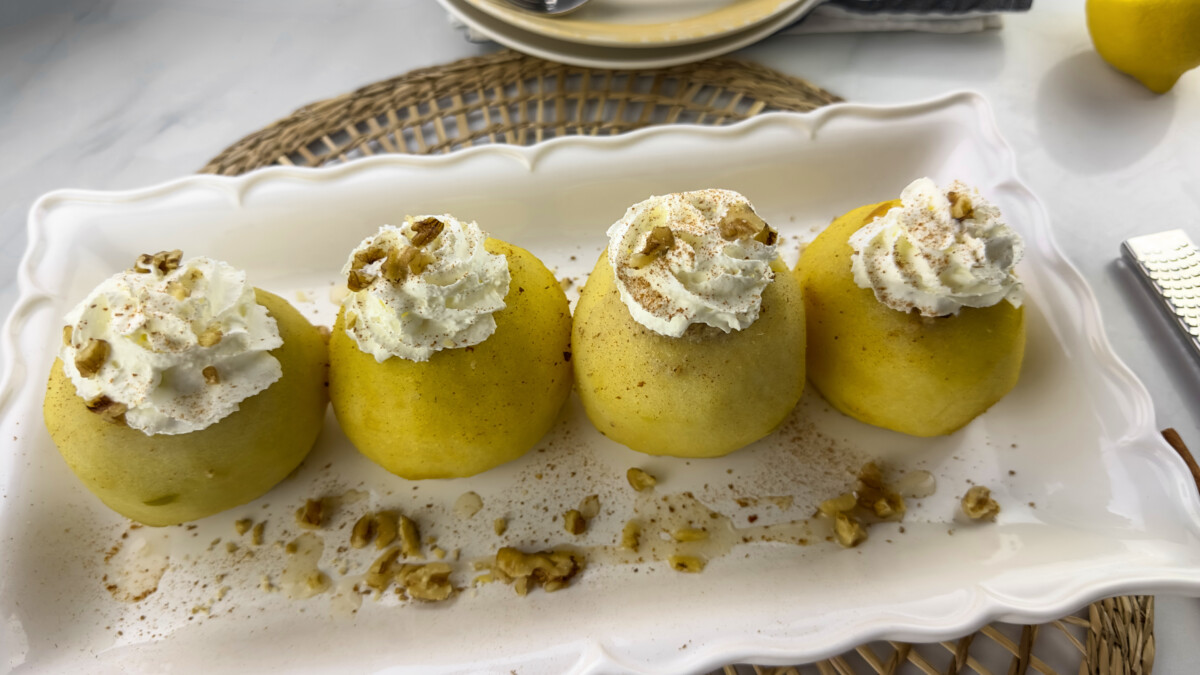 Bosnia: Easy Stuffed Apple Dessert
Delight in simple, authentic Mediterranean recipes with our Easy Stuffed Apple Dessert. Baked apples meet honey, nuts, and warm spices, creating harmony in every bite. Celebrated in festivities or as a cozy meal finale, this Balkan sweet transforms the humble into the exquisite. It's a cozy, uncomplicated dessert that's as easy to love as it is to prepare.
Montenegro: Lamb in Milk
Lamb in Milk is a traditional Montenegrin dish that showcases the region's love for hearty, comforting meals. Experience a classic Mediterranean meal with Montenegro's Lamb in Milk. Tender lamb braised in Milk creates a creamy sauce, enriching the dish's rich flavors. Simple yet profound, it's slow-cooked for nourishment and satisfaction. Paired with potatoes or bread, it's soul-warming comfort food.

Slovenia: Classic Slovenian Beef Goulash
Savor the warmth of Classic Slovenian Beef Goulash, a staple among authentic Mediterranean recipes. Infused with local flair and a hearty mix of beef, onions, and paprika, it's slow-cooked to perfection. Ideal for chilly evenings, it's a Slovenian favorite that brings comfort to the table.
Albania: Lamb and Rice Stuffed Peppers
 Savor this authentic Mediterranean dinner lamb and rice recipe with our aromatic Stuffed Peppers. Herbs and spices blend in the bake, creating a perfect dish. It's nutritious, ideal for family or festive tables, and captures the essence of Mediterranean stuffed specialties.