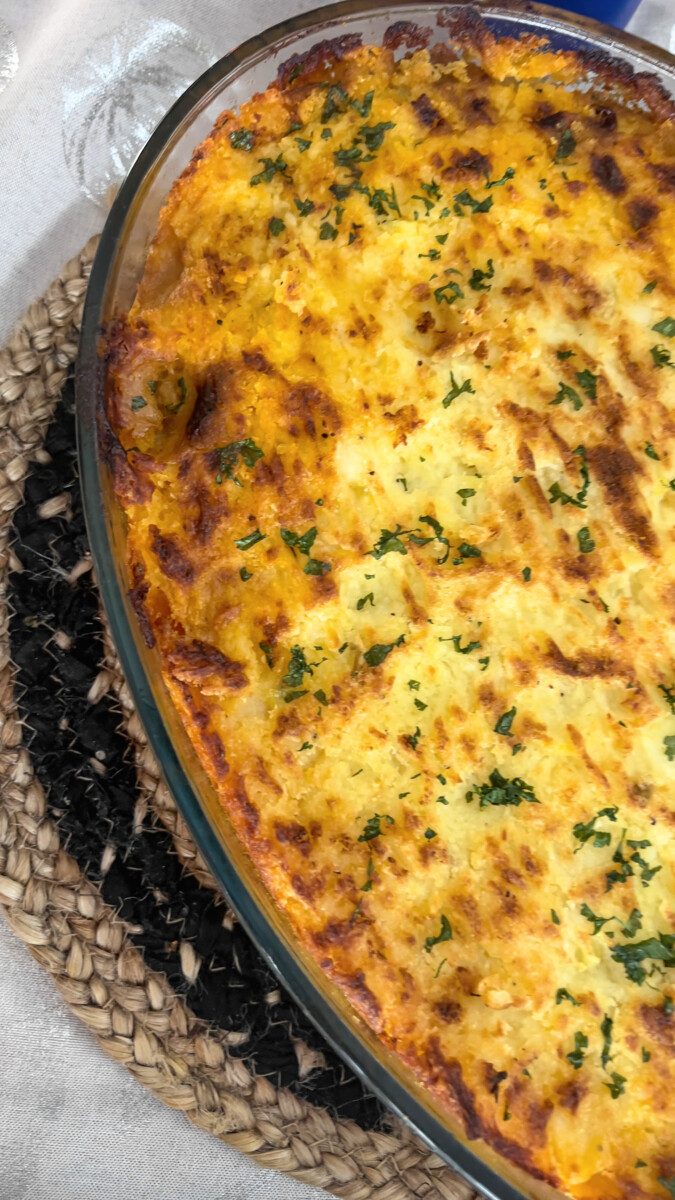 From childhood in Jordan to my family table today, Shepherd's Pie has always been a beloved dish. My mother's version, a blend of ground lamb, onions, and garlic under a crispy mashed potato crust, is my foundation for the best Shepherd's Pie recipe.
Enhancing the classic with peas, carrots, and a touch of tomato and pepper paste, this recipe has become a family favorite, earning accolades at gatherings like Thanksgiving. It's a dish that does more than feed; it creates warmth, evokes memories, and brings people together.
As you bring this Shepherd's Pie into your kitchen, I hope it fills your home with the same joy and comfort it has got to mine. Perfect for family dinners, it's guaranteed to leave your loved ones content, with plenty of leftovers to savor later. This is more than a recipe; it's a piece of my heritage that I'm thrilled to share with you.
Best Shepherd's Pie Recipe: Ingredients
Meat Stuffing:
Onions and Carrots (Chopped): These vegetables form the base of the stuffing, adding natural sweetness and depth of flavor.
Peas (Fresh or Frozen): Peas bring a pop of color and a sweet, earthy taste, adding texture to the meat mixture.
Ground Lamb or Beef: The heart of the shepherd's Pie. Lamb offers a traditional, rich flavor, while beef provides a familiar and hearty alternative.
Garlic (Minced, about seven cloves): Garlic lends a pungent, aromatic depth, enhancing the overall savoriness of the stuffing.
Red Pepper Paste (Optional): Adds a hint of heat and a vibrant color, giving the dish a subtle complexity.
Cumin: This spice imparts a warm, earthy note, complementing the meat's robust flavor.
Salt and Black Pepper: Essential seasonings that enhance the natural flavors of the other ingredients.
Fresh Thyme (or one teaspoon of dry thyme): Thyme contributes a slightly minty, subtly earthy flavor, perfectly pairing with the meat.
Broth: Adds moisture and richness, infusing the stuffing with a savory, meaty flavor.
Flour: Helps thicken the stuffing, ensuring a rich, cohesive filling.
Olive Oil: Used for sautéing, it adds a subtle fruity undertone.
The Potato Topping:
Yukon Gold or Golden Potatoes: These potatoes are ideal for mashing, offering a buttery, creamy texture and rich flavor.
Unsalted Butter: Adds richness and a smooth, velvety consistency to the mashed potatoes.
Cream or Milk: Contributes to the creamy texture of the potatoes, making them soft and fluffy.
Garlic (Minced, three cloves): Garlic in the potato topping echoes the flavors from the meat stuffing, tying the dish together.
Salt and Pepper: Season the potatoes to taste, balancing the creamy flavor.
For Garnish:
Chopped Parsley: Adds a fresh, vibrant finish and a mild, slightly peppery taste, enhancing the visual appeal of the dish
Shepherd's Pie Substitutes and Variations
Shepherd's Pie is a versatile dish that can be customized to fit your preferences and dietary needs. Don't be afraid to experiment with different ingredients and flavors to create your perfect version of this classic comfort food.
Vegetable Shepherd's Pie: You can substitute the ground meat with chopped mushrooms or lentils for a vegetarian or vegan option. Add a variety of vegetables, such as carrots, peas, corn, and green beans, for a hearty and filling pie.
Sweet Potato Shepherd's Pie: Instead of mashed potatoes,p use mashed sweet potatoes for a twist on the classic recipe. The sweetness of the potatoes pairs well with the savory filling.
Turkey Shepherd's Pie: If you have leftover turkey from a holiday meal, use it in place of the ground meat for a unique twist on the dish.
Guinness Shepherd's Pie: Substitute some beef broth with Guinness beer for a more decadent, flavorful filling. The deep, malty flavor of the beer adds a delicious complexity to the dish.
Shepherd's Pie with Cheese: Sprinkle shredded cheddar cheese over the top of the mashed potato crust before baking for a cheesy twist on the classic recipe.
Lamb Shepherd's Pie: If you prefer the traditional lamb filling, swap the ground beef with ground lamb. This gives the dish a more authentic flavor and is a popular variation in the UK.
Perfect Pairings: Side Dishes for Shepherd's Pie
Enhance your Shepherd's Pie experience with side dishes that complement its rich and hearty flavors:
Fattoush Salad: A light Middle Eastern salad with crisp lettuce, herbs, cucumbers, and tomatoes dressed in a zesty vinaigrette. Its refreshing taste balances the savory depth of Shepherd's Pie.
Cucumber Yogurt Salad: A delightful mix of cool cucumbers and creamy yogurt flavored with garlic and dill. This salad adds a refreshing contrast to the warm richness of Shepherd's Pie.
Sicilian Scaccia Bread: A savory, rolled bread filled with cheese, herbs, and spices. It's crispy cheesy, and pairs beautifully with the meaty layers of the pie.
Grilled Asparagus: Simple yet flavorful, grilled asparagus brings a smoky note and a pop of color, enhancing the overall meal.
Tomato Panzanella Salad: A rustic Italian salad with juicy tomatoes and crunchy bread cubes. The tangy and fresh flavors make it a satisfying complement to Shepherd's Pie.
These sides add variety to your meal and ensure a well-rounded and satisfying culinary experience.
How to Make The Best Shepherd's Pie Recipe
1.
Prepare the Potato Topping: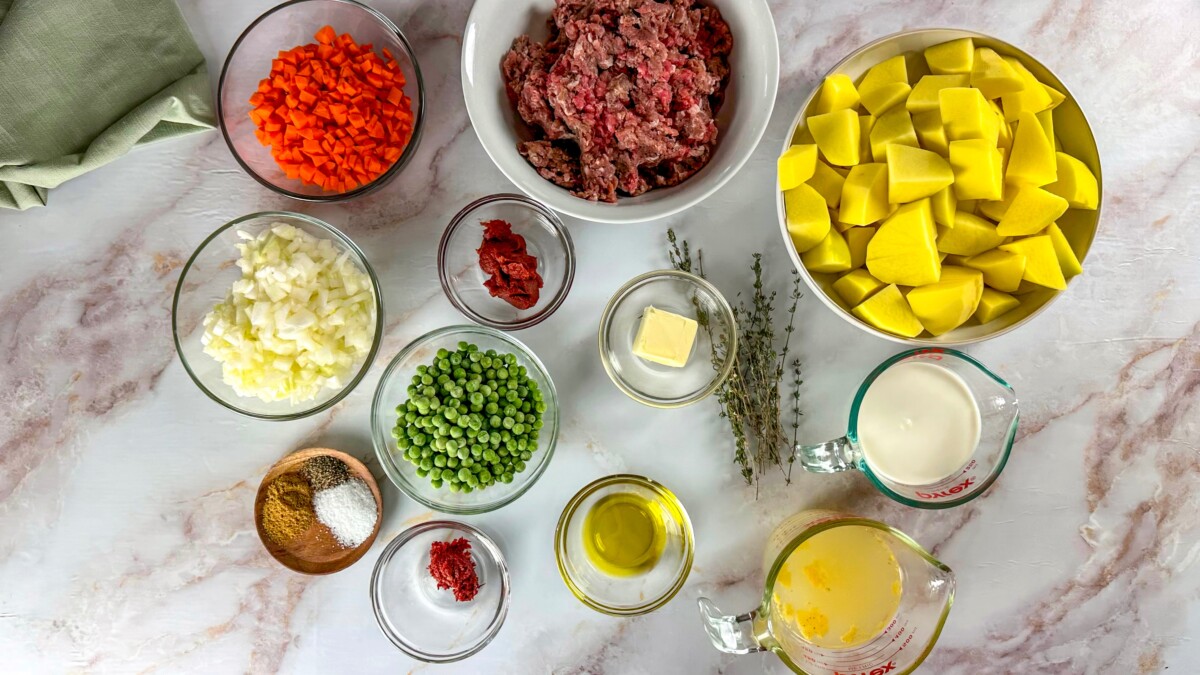 Place potatoes in a medium pot, cover with cold water, and bring to a boil.
Cook until tender but not mushy, about 15 minutes. Drain and return to the pot.
2.
Cook the Filling:
Heat olive oil in a pan over medium heat.
Add onions, carrots, garlic, tomato paste, and pepper paste. Stir to combine.
Season with salt, black pepper, cumin, and thyme. Cook until vegetables are tender, about 10 minutes.
3.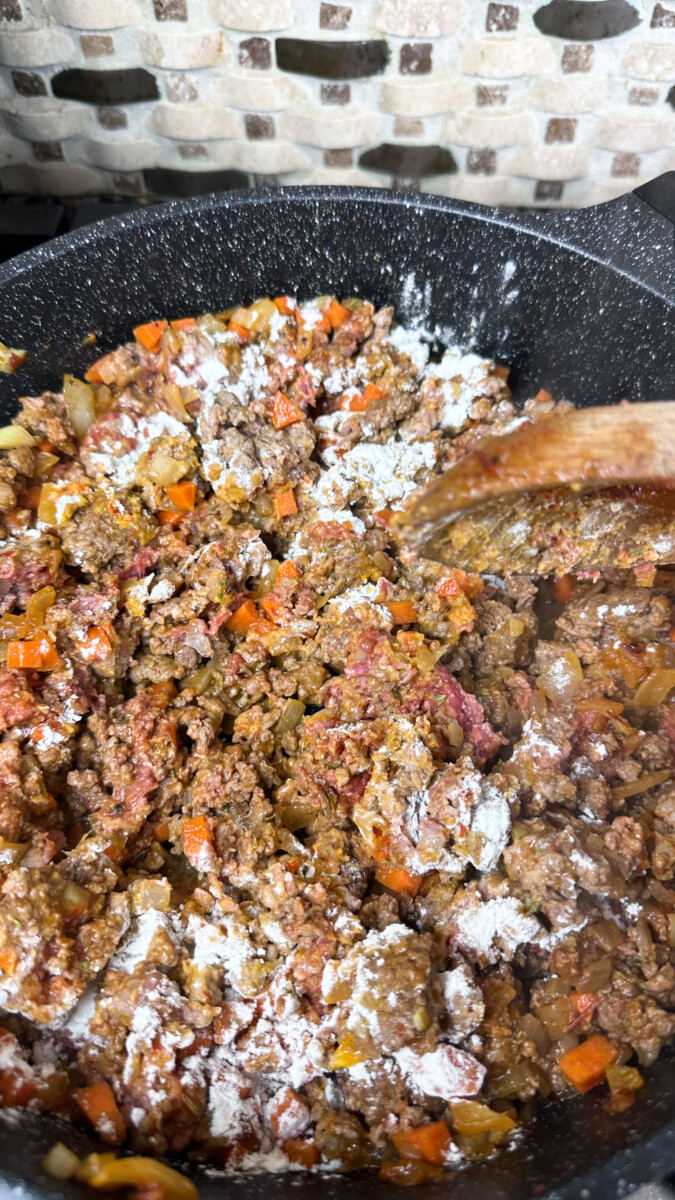 Add ground lamb, breaking it up with a spoon. Cook until no longer pink, about 8 minutes.
Stir in flour, then add broth. Cook until the mixture thickens, about 5 minutes.
4.
Make the Potato Topping:
In a small saucepan, melt butter over medium heat.
Add garlic, cook for 1 minute. Add cream or milk, salt, and pepper.
Cook until warm, then pour over potatoes. Mash with a potato masher.
5.
Prepare Peas:
Place peas in a saucepan with hot water for 1 minute, then drain.
6.
Assemble the Shepherd's Pie: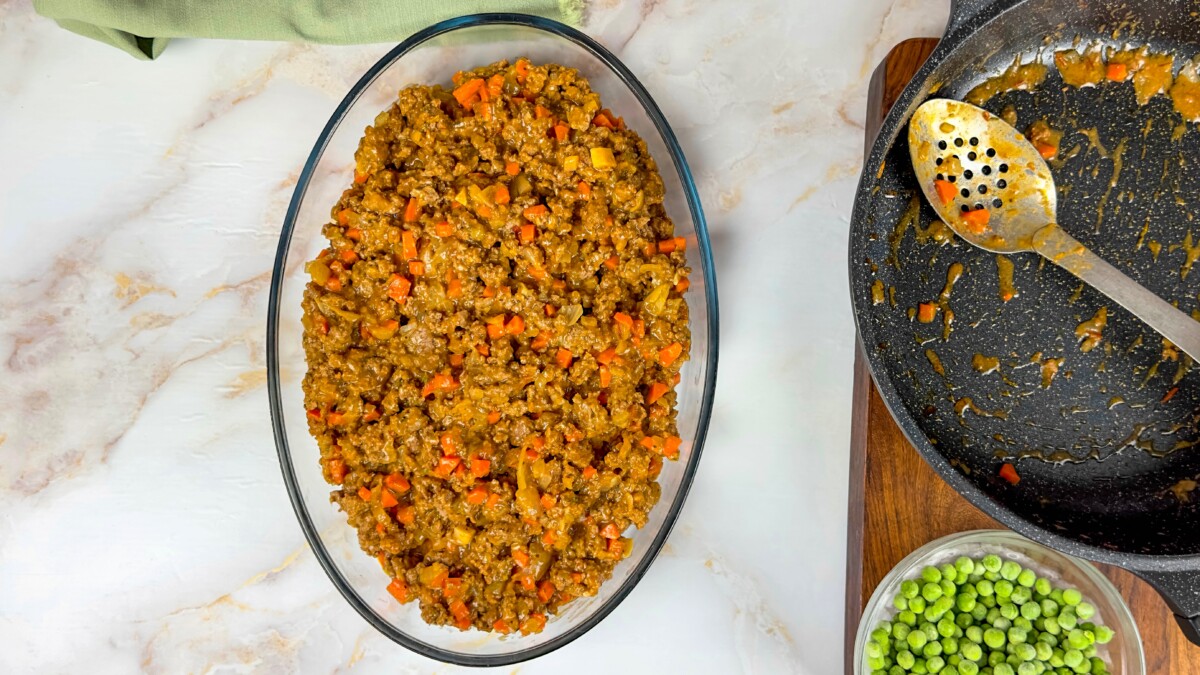 Transfer meat filling to a 9x13-inch baking dish.
Spread peas evenly over meat.
Cover with the mashed potato topping, ensuring all sides are covered.
Brush the top with melted butter.
7.
Bake:
Preheat oven to 375°F .
Bake until filling is bubbly and top is lightly golden, about 30 minutes.
Let rest for 15 minutes before serving.

8.
Garnish and Serve: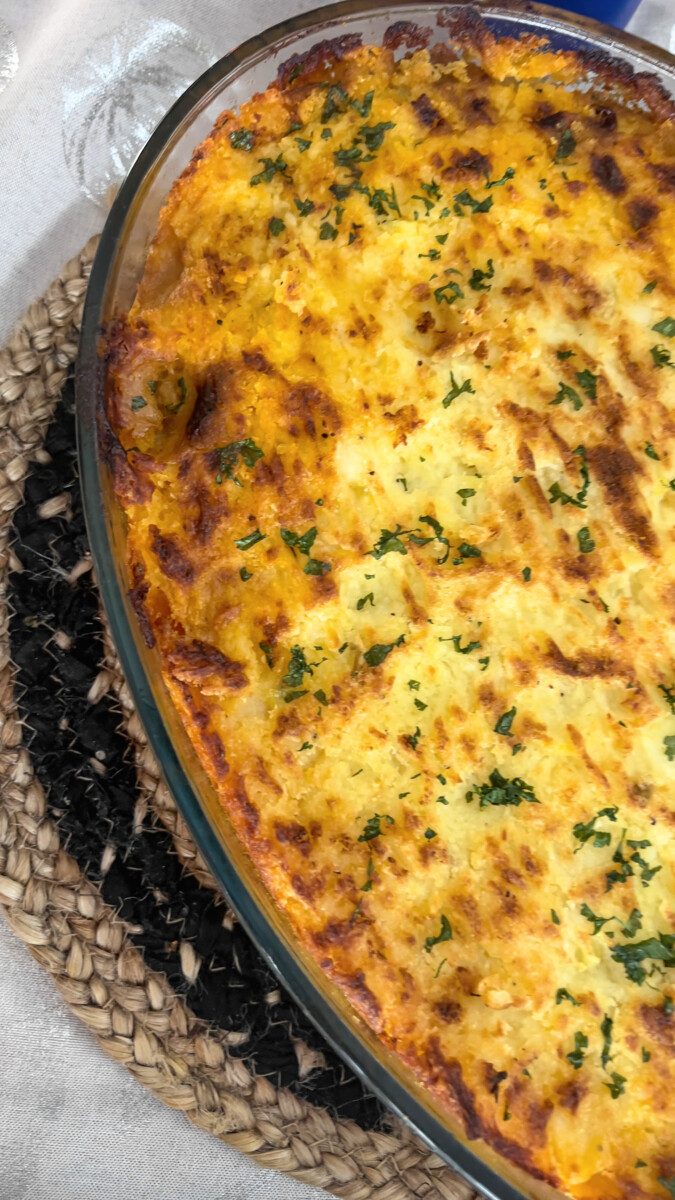 Garnish with chopped parsley.
Enjoy your homemade Shepherd's Pie!
Print & Share This Recipe!
Adjust Servings
1

onion (chopped)

3

carrots (chopped)

12

ounces

peas (fresh or frozen)

2

lbs.

ground lamb or beef

2

tablespoons

minced garlic (about 7 cloves)

12

oz

can of tomato paste

1

tablespoon

pepper paste, optional (can substitute ketchup mixed with chili flakes)

1

tablespoon

salt

1

teaspoon

cumin

½

teaspoon

black pepper

1

tablespoon

fresh thyme or 1 teaspoon dry thyme

1

cup

broth

1 ½

tablespoons

flour

2

tablespoons

olive oil
Potato Topping:
3

lbs.

Yukon or golden potatoes (peeled and cut into large cubes)

4

oz

unsalted butter

1

cup

cream or milk

1

tablespoon

minced garlic (about 3 cloves)

Salt and pepper to taste

Chopped parsley for garnish
Preparation
Prepare the Potato Topping:
Add ground lamb, breaking it up with a spoon. Cook until no longer pink, about 8 minutes. Stir in flour, then add broth. Cook until the mixture thickens, about 5 minutes.
Assemble the Shepherd's Pie:
Nutrition Information
The information shown is an estimate provided by an online nutrition calculator. It should should not be considered a substitute for a professional nutritionist's advice.
See our full nutrition disclosure here.
Have You Tried This Mediterranean Recipe?
If So, Mention Us @ranasrecipe
Or Use Hashtag #ranasrecipe
Let's Start Cooking With Love!
Tell Me How I'm Doing?
Have you been able to make this Shepherd pie recipe yet? Feel free to comment below; I love hearing from you.