Embark on a culinary journey with the delightful Mandarin Vinaigrette. This sweet and tangy dressing is commonly paired with Chinese chicken salads, but its unique flavors also beautifully complement the peppery notes of arugula. In just 15 minutes, you can whip up this homemade dressing using simple ingredients and a blender. Get ready to elevate your salads to new heights of taste and satisfaction.
Introducing Mandarin Vinaigrette, a delightful combination of sweet and tangy flavors that perfectly complements Chinese chicken salads and adds a burst of zesty goodness to arugula. With just 15 minutes of your time, you can whip up a batch of this delectable dressing that yields 1 cup of pure deliciousness.
The secret behind its vibrant taste lies in the combination of champagne vinegar, honey, diced mandarins, and fresh mint. These ingredients combine harmoniously with avocado or grapeseed oil, Dijon mustard, salt, and pepper. To ensure a smooth blend, using a blender or food processor to incorporate the mandarins seamlessly is best. Once your Mandarin Vinaigrette is ready, transfer it to a convenient mason jar for easy storage. With this versatile dressing, you can elevate your salads to new heights of flavor. So go ahead, indulge your taste buds, and savor the sweet and tangy goodness of Mandarin Vinaigrette.
Serving Suggestions for Mandarin Vinaigrette
When it comes to serving Mandarin Vinaigrette, the possibilities are endless. Its sweet and tangy flavors make it a perfect match for Chinese chicken salads, adding citrusy goodness. However, don't limit yourself there. This versatile dressing also pairs wonderfully with the peppery kick of arugula, creating a delightful balance of flavors. Get creative and try it on mixed green salads, roasted vegetable salads, or even as a marinade for grilled chicken or shrimp. The Mandarin Vinaigrette is a versatile companion that elevates any dish it touches, providing a refreshing and vibrant taste experience.
Other Salad Dressings to Try:
These salad dressings are my go-to recipes for any salad creation. Whether a simple green salad or a more elaborate mix of ingredients, these dressings bring the perfect balance of flavors. Check my guide for how to make a balance salad dressings. 
Miso Ginger Dressing; Enhance your salad with a delicious blend of miso paste, rice vinegar, and ginger for an explosion of umami flavor.
Lemongrass Salad Dressing: Add a zesty citrus twist to your salads and grilled veggies or proteins with a delicious lemongrass-infused dressing that doubles as a marinade.
Ranch Salad Dressing: Ranch dressing is a creamy, tangy, versatile favorite made with buttermilk, garlic, dill, and other herbs and spices. It's perfect for salads and as a dip.
Greek Goddess Dressing: Mediterranean-inspired dressing with Greek yogurt, lemon juice, garlic, dill, and parsley. Perfect for Greek salads or as a veggie dip.
Lemon Tahini Dressing: Tahini and lemon dressing flavor salads, roasted veggies, and falafel.
Avocado Lime Dressing: Creamy avocado and zesty lime juice create a smooth and vibrant dressing. Perfect for salads, wraps, or as a veggie dip.
Dijon Balsamic Dressing: Try Dijon mustard and balsamic vinegar for a tangy twist on your salads.
How to Make Mandarin Vinaigrette- Quick And Easy Fix For Your Salads.
1.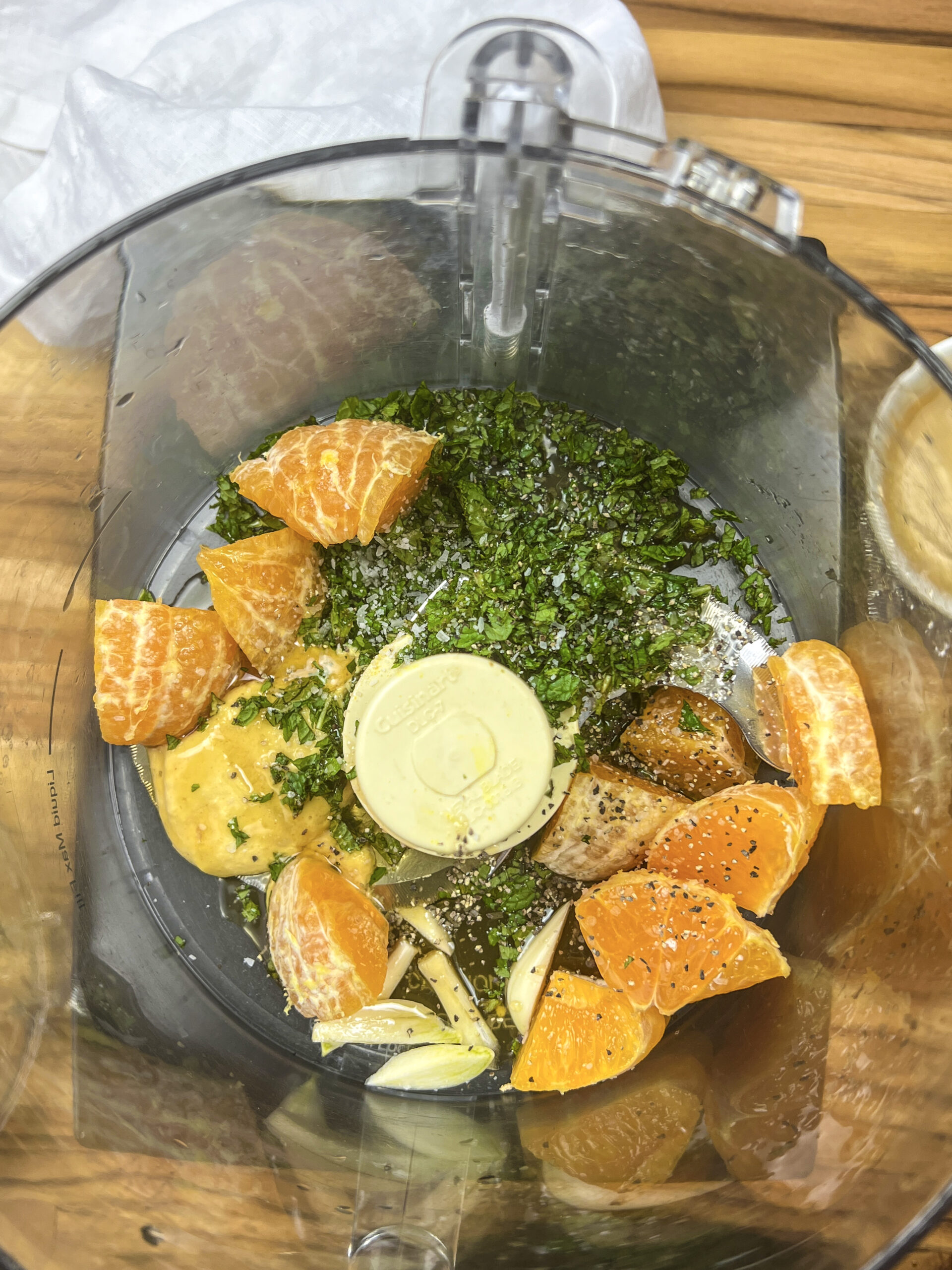 Add all the ingredients into a food processor or a blender, and mix well until smooth.
2.
Once the salad dressing is created, you can store the dressing in a mason jar.
Print & Share This Recipe!
Elevate your salads with the tantalizing Mandarin Vinaigrette. This sweet and tangy dressing features the refreshing flavors of mandarin, hints of mint, and a touch of Dijon mustard. Crafted carefully, it perfectly balances ingredients to enhance your salad's flavor. Store it in a mason jar and enjoy its deliciousness whenever you desire.
Adjust Servings
½

cup

champagne vinegar

2

tablespoons

honey

¼

cup

mandarin (diced and the zest pits removed)

2

tablespoons

finely chopped mint

¾

cup

avocado oil or grapeseed oil

1

tablespoon

Dijon mustard

Salt and pepper
Preparation
Add all the ingredients into a food processor or a blender, and mix well until smooth.
Once the salad dressing is created, you can store the dressing in a mason jar.
Rana's Notes!
To keep your Mandarin Vinaigrette fresh and flavorful, it's important to store it properly. Once you've prepared the dressing, transfer it into a clean, airtight container such as a mason jar. Make sure to seal the lid tightly to prevent any air from entering. Store the dressing in the refrigerator, where it will remain fresh for up to one week. Before using, give it a quick shake or stir to recombine any separated ingredients. This simple storage method ensures that you can enjoy the delightful flavors of Mandarin Vinaigrette whenever you're in the mood for a delicious salad.
Nutrition Information
The information shown is an estimate provided by an online nutrition calculator. It should should not be considered a substitute for a professional nutritionist's advice.
See our full nutrition disclosure here.
Tell Me How I'm Doing?
Have your adventure to make this Mandarin Vinaigrette dressing! Let me know your feedback in the comment below.